*New* Forest DRONE Survey!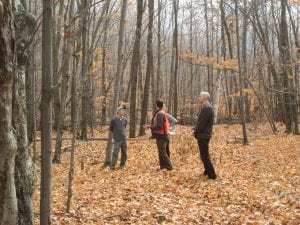 What is an On Site Visit? CFA Foresters explore your property and discuss your intentions regarding your trees, woodlot, or forest to gain a better idea of realistic goals & objectives. We walk the property, answer any questions you might have, and then discuss what to do next.
Who is this for? An on-site visit is for anyone with an interest in their trees. It doesn't matter the size of the property. Whether you have 1/4 of an acre or 1,000 + acres. Just bring an open mind and enthusiasm for doing something. Bring along others and make it an event!
Typical visits include:
Boundary identification
Discussion of goals & objectives
Tree Identification
Land-use history


CFA Camera Drone

Timber value assessment & planning
Wildlife habitat assessment & planning
Forest health
Which trees should be cut & which should not be cut
Optional camera DRONE flight of property
On-Site Visit Program Pamphlet