Catskill Woodsman Education Series – So You Want To Build a Cabin!
November 3

-

November 5

$400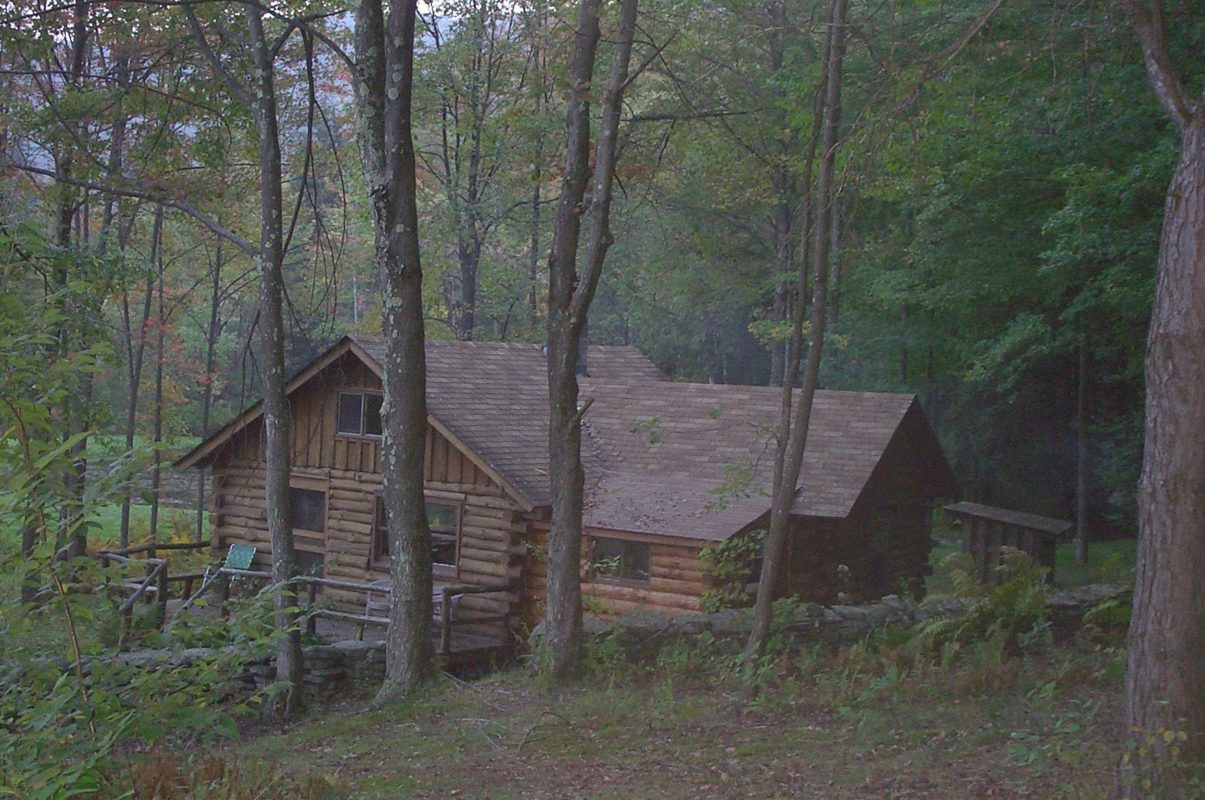 Do you want to learn the simplistic, basic processes of building a log cabin with simple tools?  This class will give you from A to Z steps to build a cabin like this from your own trees or ones you purchase and process if you don't have your own.
This is a MEMBERS ONLY class to provide instruction to build a cabin of your own in the woods.  Each participant will receive instruction and hands-on experience in selecting trees, cutting them, processing them to become cabin logs, and constructing a cabin-like structure (woodshed) on the property.  Detailed instruction and participation will be given to each participant in selecting trees, felling and bucking them, moving them to the work site, using a chainsaw mill, bandsaw mill, peeling tools, measuring and shaping tools, and construction techniques to complete a "green-built" cabin.  Lifting and moving logs up to 8 feet will be required.
Game of Logging will be a prerequisite to offer complete time to learn all aspects of the construction.
Day 1, 8 am – 4 pm: will include chainsaw maintenance, sharpening, and safe use.  Also included will be a visit to the cabin and a review of construction techniques and tree selection.
Day 2, 8 am – 4 pm: will include chainsaw mill and bandsaw mill operation and setup.  Also, trees will be selected, cut, and delivered to the work area.  Logs will be prepared for milling and milled.  Each participant will use the Alaskan chainsaw mill and the Woodland Mills bandsaw mill to prepare logs for construction.
Day 3, 8 am – 4 pm: will include techniques to construct the cabin.  Each participant will measure, lay out, and cut logs to length and proper shape.  Once done, construction will commence with each participant practicing and completing as many logs as possible towards completion.  If walls are not completed the landowners will complete at a later date.
Come prepared with your own chainsaw, for felling and bucking, all Personal Protective Gear (helmet, chaps, boots, eye protection, and hearing protection).  In addition, bring a bag lunch.  Water is available on-site.  Come prepared for all weather, we won't cancel for weather.
Details
Start:

November 3

End:

November 5

Cost:

$400
Venue
86 Davis Hollow Rd.

86 Davis Hollow Rd




Andes

,

NY

13731

United States

+ Google Map
Organizer
Catskill Forest Association

Phone

845-586-3054

Email

cfa@catskillforest.org